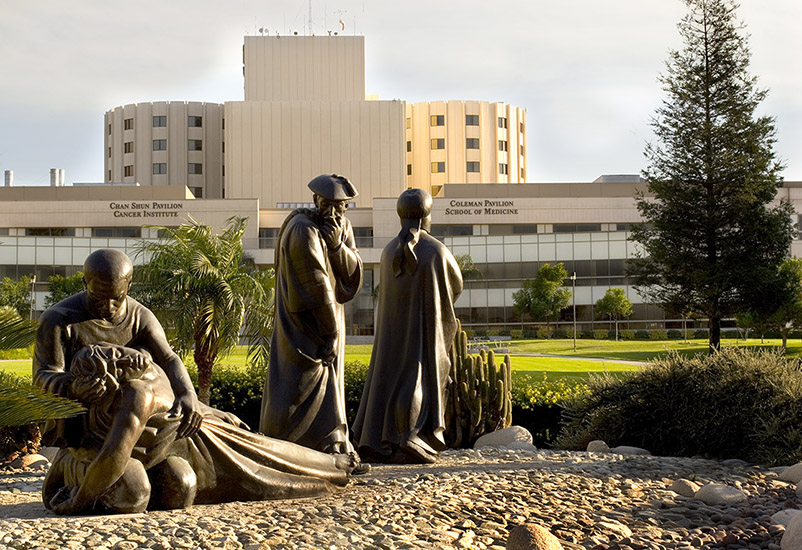 Our Mission
The mission of Loma Linda University School of Pharmacy is to educate competent and compassionate pharmacists who are dedicated to whole person care as integral members of a healthcare team. We pursue excellence in teaching, service, research and clinical care in honor of Jesus Christ.
Our Vision
To Continue the Teaching and Healing Ministry of Jesus Christ
Our Values
The School of Pharmacy faculty and staff affirm that the overarching Loma Linda University Values are the foundation of the work we do within the school.  These values are remembered through the acronym J-CHIEFS:
Justice - The commitment to equality and to treat others fairly, renouncing all forms of unfair discrimination. The God of the Bible is One who calls people continually to justice. According to the prophets, religious faith could be genuine only when it led the believers to "seek justice, rescue the oppressed, defend the orphans, [and] plead for the widow."
Compassion - The sympathetic willingness to be engaged with the needs and sufferings of others. Among the most memorable depictions of compassion in Scripture is the story of the Good Samaritan, which Loma Linda University has taken as a central symbol of our work.
Humility - The willingness to serve others in a sacrificial manner, and the self-respect that renounces haughtiness or arrogance.
Integrity - The quality of living a unified life in which one's convictions are well-considered and match one's actions. Integrity encompasses honesty, authenticity, and trustworthiness.
Excellence - The commitment to exceed minimum standards and expectations.
Freedom - The competency and privilege to make informed and accountable choices and to respect the freedom of others. God has called us not to slavery but to freedom.
Purity/Self-Control - The commitment to be morally upright and moderate in all things, with complete control over one's emotions, desires, and actions.
Our Goals
The goals of the Loma Linda University School of Pharmacy are to:
Develop graduates who possess the leadership and critical thinking skills to innovate and influence the dynamic field of healthcare.
Enhance student engagement in reciprocal and sustainable relationships with local and global communities.
Develop students, faculty, and alumni who are accountable and responsible for patient drug therapy outcomes.
Develop graduates who demonstrate mastery of social intelligence (SI) and emotional intelligence (EI).
Develop a unique community of individuals who demonstrate excellence in providing whole person care.
Engage students and faculty in collaborative teaching, scholarship, service, and patient care.