Pharmacy residency programs – the pursuit of knowledge, experience, and career paths, opens a world of opportunities.
by Stephen Vodhanel, PhD
While factors that influence pharmacy students to enter into a residency program are diverse, three outcomes of residency programs lend validity to their value –gaining knowledge, adding experience, and enhancing career opportunities. 
According to Ryan Koca, PharmD, clinical informatics pharmacist at Tenet Healthcare, "Residency was undoubtedly the best decision I could have made after completion of my doctor of pharmacy program at the University of Illinois at Chicago. There is a whole world of opportunities out there in the profession of pharmacy and a residency program is the key to unlocking many doors. One of the best aspects of a residency is that it allows you to expand your knowledge base in a multitude of areas while still having the safety net and built-in support system of preceptors and professors."
Residencies provide opportunities that exist nowhere else, and introduce residents to other healthcare professionals. Also, pharmacists have many opportunities to become valuable members of a multi-disciplinary medical team during a residency, and experience a broad exposure to healthcare concerns as well as sharpening their research skills.  
For Norm Hamada, PharmD, pharmacy residency director at Loma Linda University Medical Center, taking a residency offered him a wealth of experience and knowledge. 
"The residency program gave me the opportunity to work with some terrific role models who provided the groundwork to expand my clinical and leadership skills," Dr. Hamada recalls. "Some of my mentors were pioneers in the profession, and working alongside them offered invaluable experience and knowledge."
Assistant Professor Rebecca Cheung, PharmD, views the research practice in her residency program as particularly valuable. 
"My residency practice provided me with the knowledge required to do accurate research," Dr. Cheung says, "which later opened a door to a fellowship program. Both of these opportunities provided useful clinical experience across the spectrum of medical professions by allowing me to work alongside many leading experts in healthcare."
Professor Javad Tafreshi, PharmD, BCPS  (AQ Cardiology), FAHA, cites the residency as a new requirement for multiple pharmacy positions. 
"Recent trends in the pharmacy profession have seen more demands for pharmacists with additional training and experience over and above the PharmD degree," Dr. Tafreshi points out. "The profession has changed substantially in the last decade or so. Years ago, the PharmD was recommended, but not required; now it is a basic requirement. Today, we are seeing more and more positions where both general and specialty residencies are required, along with the PharmD degree." 
To meet the demands of the changing professional requirements in the pharmacy profession, Loma Linda University remains committed to an active and growing pharmacy residency program that is both patient-centered and clinically based, and offered in partnership with Loma Linda University Medical Center. 
Loma Linda University Medical Center pharmacy residency programs began in 1995 with just one first-year general practice resident. Since then, a total of 45 PGY1 and 8 PGY2 residents have completed the program. In 2008, the Medical Center and University combined resources and now jointly support nine PGY1 residents and four PGY2 residents.
With the partnership that now exists between Loma Linda University and Loma Linda University Medical Center, the residency programs can offer pharmacists many broad opportunities for growth. Pharmacy residencies currently include
a teaching certificate, hospital practice rotation, and opportunities to study pharmacy administration, medical intensive care, and several other specialty areas.  
PGY2 experiences are available in pharmacy administration, oncology, pediatrics, critical care, cardiology, and an infectious disease fellowship. Future residency growth opportunities include PGY2 positions in transplant and clinical informatics. 
According to LaDonna Oelschlaeger, PharmD, residency academic coordinator and assistant professor of internal medicine, the residency program offers a unique tailored experience with many opportunities to gain clinical practice in a variety of specialized and sub-specialized areas of pharmacy. 
"The teaching certificate program, elective academic rotations, and mission opportunities, provide each and every pharmacy resident the opportunity to experience their personal goals while enhancing the overall mission of our institution," Dr. Oelschlaeger says.
The pharmacy residency program is dedicated to training future leaders within the profession in the areas of hospital practice and academia. The partnership between Loma Linda University Medical Center and Loma Linda University School of Pharmacy has created a synergistic environment that will grow and evolve, and continue our commitment to excellence.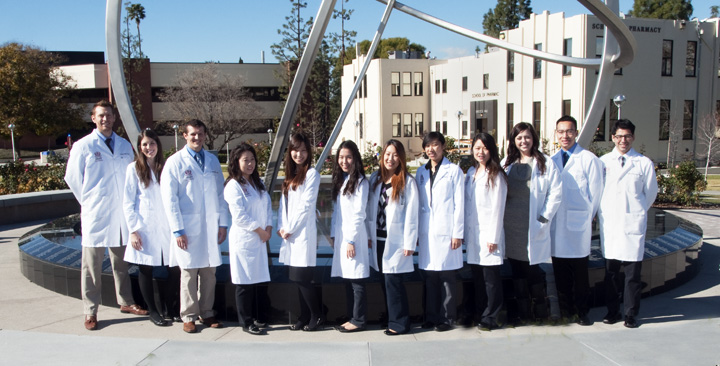 Photo: Class of 2012-2013 Loma Linda University pharmacy residents.