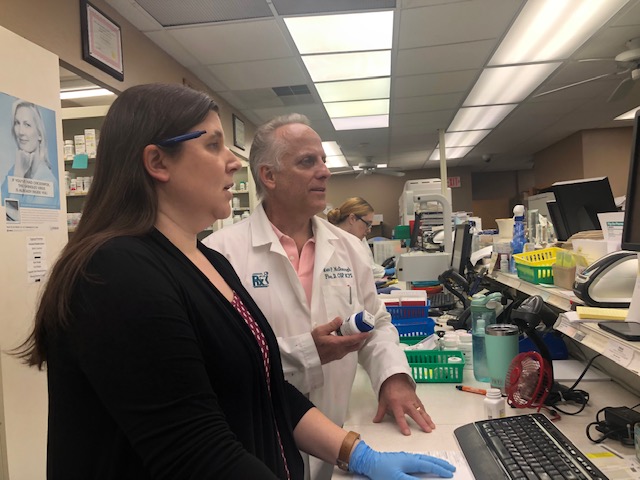 By Jen Mathew - November 3, 2020
Pharmacy Times magazine released the names of the 2020 winners of its prestigious "Next Generation Pharmacist" award. Among them was LLU School of Pharmacy professor of practice management and innovation, Randy McDonough, PharmD, MS, BCGP, BCPS, FAPhA, who won in the category of Patient Care Provider.
"It is always a blessing and an honor to be recognized by your peers, especially for something about which you have felt committed and passionate," said McDonough.  "My pharmacy career has always focused on improving patient health outcomes by working collaboratively with a health care team and ensuring patients' medications are optimized."
School of Pharmacy dean, Dr. Michael Hogue, said of his colleague, "Randy McDonough is a practice innovator and one of the preeminent leaders in the pharmacy profession.  Dr. McDonough is a great example of the quality of the faculty here at Loma Linda University and an embodiment of our commitment to ensuring our students are exposed to cutting-edge practices through their educational experience."
In all, 10 awardees in various categories were honored. Winners were nominated by peers in the pharmacy industry. Each nomination was evaluated by an independent panel of judges. The three top-scoring nominations in each category were named finalists, and the highest scoring of the three was deemed the winner in that group.
For the last 10 years, the goal of the Next Generation Pharmacist program has been to "recognize pharmacists, technicians, students, and other industry advocates who are defining the future of pharmacy."
As for Dr. McDonough, his award as a Next Generation Pharmacist in the area of patient care recognizes his work over the last ten years helping other pharmacies transform their practices to support delivery of enhanced patient care services. It also honors his service as Director of Practice Transformation for the national Flip the Pharmacy program—a multi-year, multi-million-dollar grant funded by the Community Pharmacy Foundation and administered by the Community Pharmacy Enhanced Services Network (CPESN-USA). Currently, Dr. McDonough and his team are helping approximately 950 CPESN-USA pharmacies across the country to transform their practices.
"Not only am I humbled by this recognition, but I am proud to be part of the LLUSP initiatives to help community pharmacies within Southern California transform their practices," said McDonough