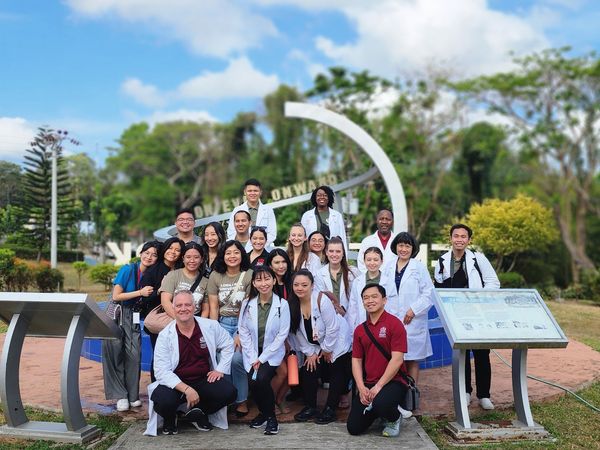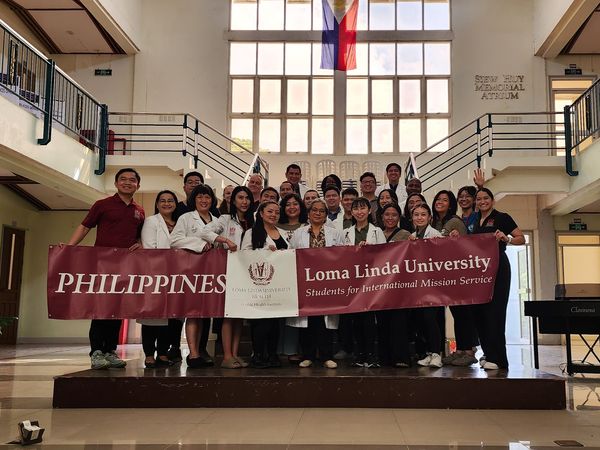 By School of Pharmacy - April 10, 2023
During spring break, a group of 22 LLU faculty and students from four programs embarked on the first SIMS-affiliated interprofessional mission trip to the Philippines. The team was primarily comprised of three Pharmacy faculty and 12 students, with additional representation from Occupational Therapy, Communication and Speech Disorders, and Public Health programs. 
In collaboration with Adventist University of the Philippines College of Medicine and Manila Adventist College Schools of Pharmacy and Physical Therapy, the team worked alongside local providers, pharmacists, faculty, and staff at medical and pharmacy schools to offer free clinics, spiritual care, and other services to the community. The three free clinics provided general medical care, medical and medication counseling, dental care, physical therapy, health education, and treatment of minor illnesses.
Close to 500 patients were served, including adults and pediatric patients. The team also engaged in a range of other activities during their stay, including meetings with local clinicians and faculty, discussions around potential collaborations in pharmacy education and research, and beach day activities.
Dr. Noreen Chan Tompkins, a Pharmacy faculty member, shared her expertise on implementing an antimicrobial stewardship program at Manila Adventist College. Dr. Ike de la Pena met with faculty and staff at the University of the Philippines for potential collaborations in pharmacy education and research. 
The trip also included social events, including fundraising concerts hosted by AUP medical students and a welcome musical program by MAC School of Pharmacy students. Overall, the trip was a success in terms of providing much-needed healthcare services to the community, as well as fostering relationships between faculty and students from different programs and institutions.