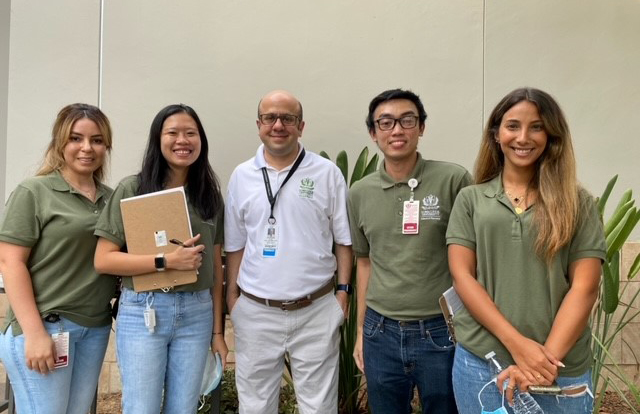 By School of Pharmacy - September 27, 2021
Loma Linda University School of Pharmacy collaborated with eight pharmacy schools from Southern California: Chapman, Ketchum, USC, Western, UCI, Westcoast, and KGI for months to coordinate the first in-person residency showcase after COVID-19 pandemic. There were over 380 APPE students and 44 residency programs who attended this event on Friday afternoon, September 24. The showcase ran for two, two-hour sessions at Yorba Linda Community Center in Orange County. In addition to APPE students from the above schools, there were over 40 students from UCSF, UOP, UCSD, and other pharmacy programs in California who registered and attended the showcase on Friday.
This was very exciting for the students to be able to meet with residency program directors (RPDs) and their PGY-1 residents to get more information about the programs. From LLUSP, about 40 APPE students registered and attended the showcase.
Altogether, APPE students, RPDs and their residents, and volunteer team from the above schools, there were about 550 individuals attended the event on Friday.
This was the third year of such a close collaboration: in 2019 Western University held an on-site showcase. In 2020 LLUSP hosted a virtual showcase due to COVID-19 pandemic, and in 2021 the team of 8 schools together hosted this successful event at a centrally located place. The schools shared the fees among themselves. This way there was no registration fee for students and residency programs, which allowed students and RPDs to have a face to face conversation after a long-time post COVID-19 pandemic.