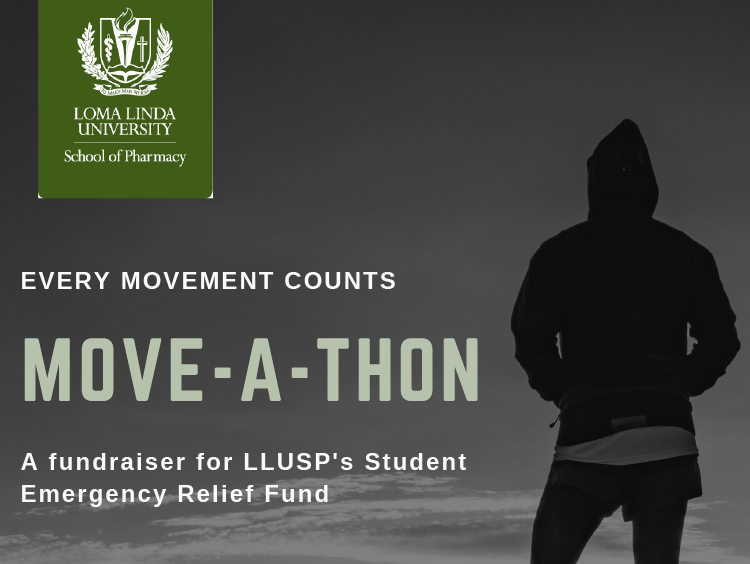 By School of Pharmacy - December 20, 2021
---
Start 2022 off on the right foot with LLUSP's Move-a-Thon! This event is our second annual fundraiser, organized by our Student Ambassadors, for the LLUSP Student Emergency Relief Fund. It's a fantastic way to exercise, bond with friends and take care of pharmacy students in dire financial need!
Or, if you don't want to participate, consider making a donation to LLUSP's Student Emergency Relief Fund. 
Last year, we called it a Walk-a-Thon, but to allow for more kinds of exercise and abilities, we've expanded it to a Move-a-Thon. Any kind of intentional exercise-- walking, running, swimming, biking, Jazzercizing, etc.-- it all counts! We beat our goal of raising $2,000 and raised nearly $5,000 instead! Let's see if we can over achieve again this year and raise more than $5,000!
The Move-a-Thon starts on Monday, Jan. 10, and lasts until Monday, Jan. 24, and costs $10 per person to participate. Various prizes will be awarded for several different categories.
Before it begins, here's what you need to do:
Make a team - Five members, please.
Register - Here
Download the Strava app - Which will track your exercise/steps.
Start asking people to sponsor you - Every mile counts, remember, this is a fundraiser!