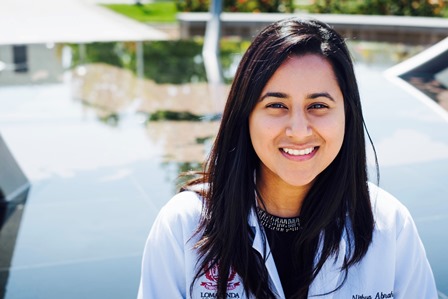 By Nithya Abraham - March 8, 2018
Class of 2019 
This upcoming June will mark the end of didactics in pharmacy school for me. These last few years have passed by so quickly! There was always one more assignment to finish, a presentation to prep for, exams looming, and the end of the week, a weekend of interning in the pharmacy. In the few spare hours left, there was data collection for research projects and posters to make for upcoming health fairs. As a student, it is very easy to get lost in the cyclone of graduate school. I spent hours studying about therapeutic options for various disease states and perfecting my pharmacokinetic calculations. However, no matter how fascinating these things were, they failed to give me purpose. I remember asking myself what I was doing and why was I doing this in the first place. Somehow, I seemed to be losing myself in the middle of all the deadlines and obligations. 
It was during these dejecting times that I found myself planning an outreach event for one of the student chapters of an organization that I was a part of. As much as I enjoyed planning this event and doing something to give back to the community, I was exhausted. Little did I know that this event was just what I needed to remind me of why I chose pharmacy as a profession. One fall afternoon, some classmates and I made our way to a local Seventh-day Adventist elementary school to teach students during their chapel time about medication safety and self-control. The moment those children walked into the room, the air seemed to change. They were so excited to see all of us in our white coats, and they were keen to listen to what we had to say. We taught them about safe medication practices, the importance of practicing self-discipline and how they can do all things through Christ who gives them strength. We also played games with the children to reinforce the concepts of our talk. They enthusiastically participated in the games and listened to us with rapt attention. 
Their enthusiasm was contagious. I remember all of us absolutely enjoying ourselves, and my exhaustion seemed to disappear. After we finished up our outreach, I remember thinking about how something as basic as teaching these children not to share their medications with others, brought me such fulfillment. It was a reminder that being a pharmacist was not only about being the best clinician, but it was also about connecting with people and using your knowledge to educate patients. Those children reminded me that my demanding schedule was worth it because it gave me an opportunity to teach them how to be safe when they used medications. It reminded me that I chose this profession because I believe that our highest calling in this life is to serve others with the talents and gifts God has given us. 
After that event, I felt rejuvenated and I resolved to continue to do more outreach events to remind me to connect with people and not get lost in my world of exams and projects. I still get exhausted and sometimes I feel like there is no time to do anything but study. Pharmacy school is and always will be challenging. However, I believe that is important to choose experiences that will help you to find meaning and to grow not only as a clinician.  As I finish up my last quarter of didactics and transition into a year of clinical rotations, I have no doubt these many outreach events I've had an opportunity to be a part of will serve as a reminder to keep going so that I can serve my patients to the best of my abilities one day.