Homecoming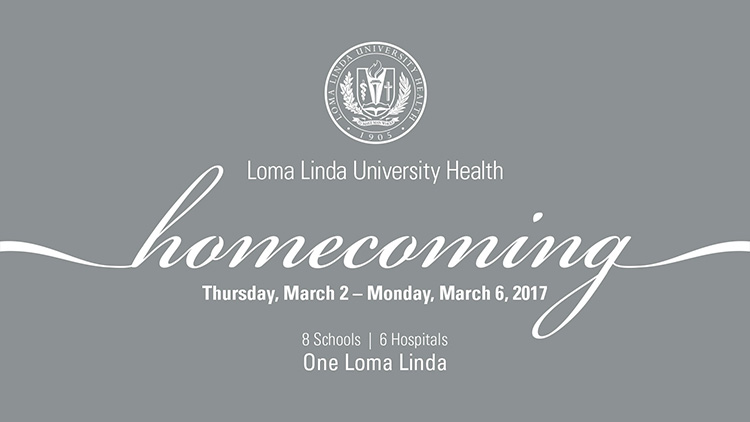 Together as One Loma Linda University
Thursday, March 2–Monday, March 6, 2017
Message from the Dean
Loma Linda University School of Pharmacy is pleased to invite all of our alumni to the inaugural Loma Linda University Health Homecoming.  We hope you will return to campus for this event-filled weekend to catch up with friends both from LLUSP and other LLU schools.  We think you will find the activities scheduled over the course of these few days to be truly enjoyable. It will be a wonderful reunion, and we very much look forward to seeing you in March!
Sincerely,
Noreen Chan Tompkins, PharmD, BCPS-AQ ID
Dean
School of Pharmacy
Schedule of Events
Registration
Wednesday, March 1 to Friday, March 3, 2017
West side of Centennial Complex
Thursday, March 2, 2017

Interprofessional Continued Education Courses
Centennial Complex

Pain Management Symposium
Damazao Ampitheater 350
8:30 AM – 12:00 PM
3.5 units

Men's Health Symposium
Damazao Ampitheater 350
1:00 – 5:00 PM
3.5 units

*See CVent registration page for specific course topics, times, enrollment, and fees

Homecoming Kickoff Celebration & Concert
Drayson Center
5:00 – 9:00 PM

Friday, March 3, 2017

Pharmacy Continued Education Courses Clinical Update: The 2016 Medical Eligibility Criteria and Practice Recommendations for Contraception
Kathleen Besinque, PharmD, MSEd, FASHP, FCSHP
Shryock Hall 123
11:00 AM – 12:00 PM
1 unit - FREE

Pharmacy Law Updates 2017
Jim Pinder, JD, MBA
Shryock Hall 128 - 1:00 – 2:00 PM
1 unit - FREE

School Tours
Shryock Hall
1:00 – 3:00 PM

Saturday, March 4, 2017

Sabbath Church Service
Drayson Center
9:00 a.m. to 11:45 a.m.

Haystack Lunch
Drayson Center
12:15 p.m. to 1:30 p.m.

LLUSP Alumni Dinner
Mission Inn Hotel & Spa, Riverside, CA Spanish Art Gallery
6:00 – 8:00 PM
Let us know that you're coming!
Please RSVP by Monday, February 20, 2017